This portrayal of an extraordinary aid worker is included in the new travel book Himalayan Bus Plunge — & Other Stories from Nepal
05:30 – Alarm goes off and Magnus gets up. Quick wash but no time for breakfast. Onto his Giant mountain bike and off into the narrow streets of Kathmandu. We ride fast, keeping up with the small Hero Honda motorbikes that are imported from India. We meet with a friend and head into the foothills that surround the capital of Nepal.
We pass scores of thin men pushing old-fashioned bicycles into town, each one stacked high with hundreds of kilos of potatoes, onions and other vegetables that are grown in the vicinity.
Magnus and his friend reach a high point in the foothills and wait impatiently for their unfit, inexperienced companion (me) and then launch themselves off a steep drop back down into town. They bounce and skid and tear through the pinewoods, as fast as horses and as nimble as rabbits. I fall off repeatedly, lag behind and feel like a tortoise.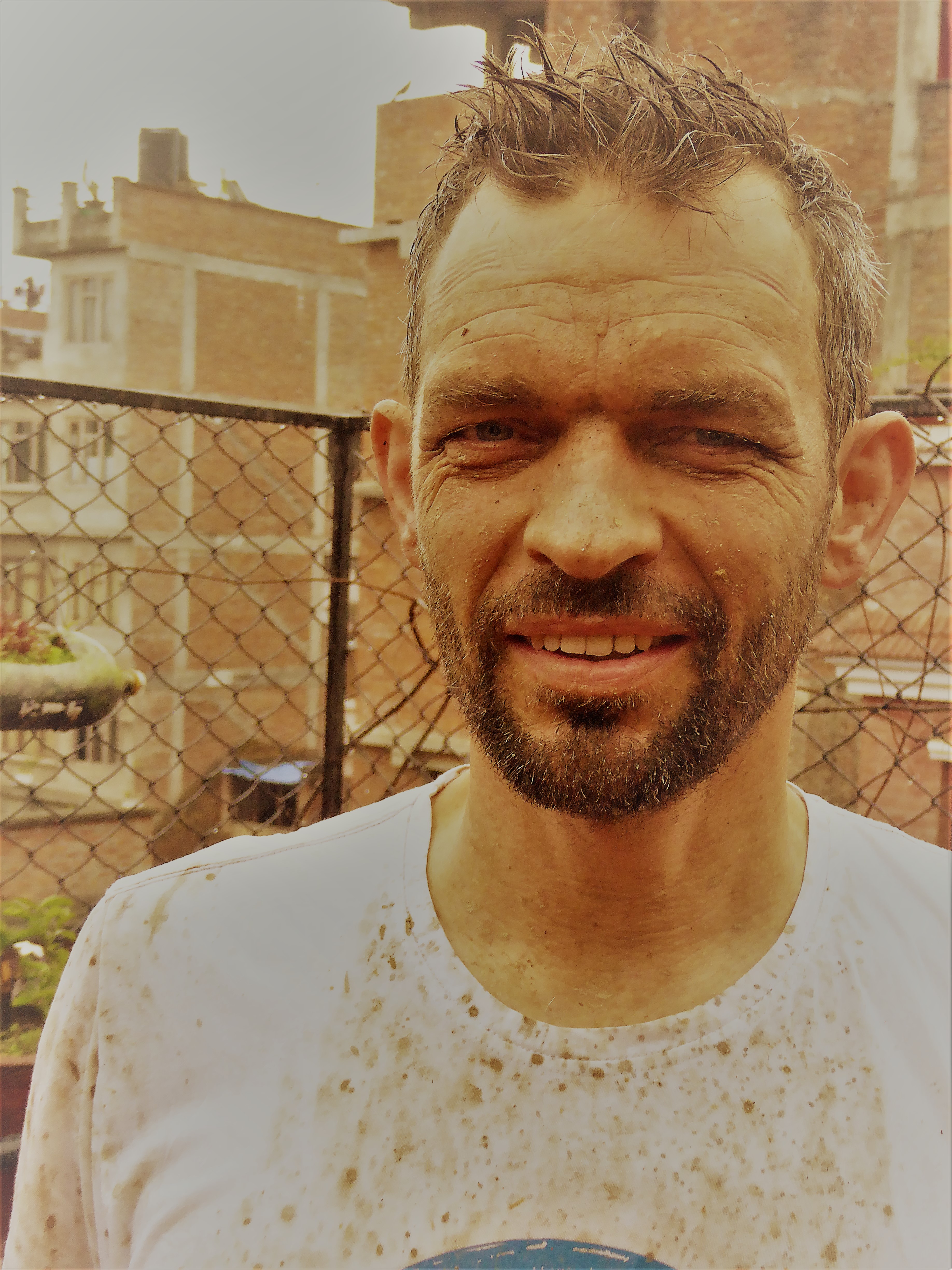 08:00 – Breakfast is Magnus' main meal of the day, the fuel for his tremendous energy. When not mountain biking, it is preceded by about 20 minutes of exercise on the rooftop. Breakfast comes in two parts: a bowl of muesli, yoghurt, milk, tropical fruits and various protein supplements in jars; this goes with rich brown toast from the German bakery, who also supply wonderful butter; we add honey, jam and a boiled egg to the mix. Three copies of the New York Times are delivered daily with a local paper (Republica) and this gives us plenty of interesting material to read about Trump and his descent into hell.
09:00 – Magnus jumps back on his bike and weaves at speed through the crowds of vehicles and people in Kathmandu's narrow streets. Cycling in this town is like being inside a video game. He gets to the fortified entrance of the British Government's Department for International Development (DFID) where he works as a humanitarian advisor. He helps organise the reconstruction of thousands of houses after the devastating 2015 earthquake and is passionate about "retrofitting", which means reinforcing damaged buildings at a fraction of the cost of rebuilding them.
11:30 – Magnus is addressing a group of adult-looking schoolgirls from the Godolphin school in Salisbury (England). They are on a two-week trip to Nepal and are now learning about British aid to Nepal. Magnus tells them about what's being done to help the victims of the earthquake, especially those in the high mountains where there are no roads. He says 5-6 million people were affected by the quake and they work in 4 districts. The quake cut off water supplies all over the region and DFID have re-connected over 150,000 people with fresh water.
One of DFID's most impressive activities is rebuilding paths between villages, so that mules can use them and get building materials and other essentials up to the villages. DFID have funded the rebuilding of 125 kilometres of footpaths, and I imagine the logistical challenge of getting stone slabs and other materials up into the Himalayas.  
18:30 – Magnus comes home to change out of his work clothes. He grabs a cup of tea and we head out to his evening yoga class. We're running late (we're always running late) and so speed is of the essence. On our nimble mountain bikes, we can overtake everything in Kathmandu's choked and lumbering traffic. We leave the chaos of the streets behind us and take refuge in a yoga class, located within an oasis of calm and greenery. Then we go to a barber shop, where Magnus gets a haircut and an intense head and shoulders massage for about £2.
20:30 – back to the house. Quick change of transport. We drop off the push bikes and get on his new Royal Enfield Himalaya motorbike. Magnus has invested in this beast so he can get to the mountains easier, but it's also suitable for night riding around the city. We roar off and get to a mellow restaurant called Evoke where we eat pasta and fried paneer (cheese) but we're in a hurry and the bill comes too slowly. They're too laid back. Then we go to a rougher-looking place called Base Camp where we meet some of Kathmandu's literati – including a literary translator called Nayan and a writer of short stories called Prawin Adhikari.
00:00 – the city is dead quiet by this time. The thick pollution that hovers over the streets by day is gone by midnight. We get home in no time. Quick cup of tea. Magnus takes out his laptop, starts making plans for tomorrow and deals with emails. I'm off to bed. I can't keep up with this level of energy.
N.B. Magnus only gets up at 05:30 on a Wednesday morning, when the ex-pats go for a mountain bike ride before work. On the other mornings of the week he lies in bed till about 07:00 Wednesday is his busiest day as he also has the yoga class that evening.
Latest posts by Rupert Wolfe Murray
(see all)