Thursday, Kathmandu
My friend Aakash phones and asks "what are you doing this weekend?" I tell him I'm planning to get a bus towards the Langtang area, just north of Kathmandu, and go trekking.
"We're going to Tatopani," he says. "There's a spare seat in the car. Would you like to come?"
"Where's Tatopani?"
"It's north of Pokhara, on the road to Mustang."
"I'm coming…"
For the last 30 years the Mustang region of Nepal has, for me, been like a lost world, a Shangri La, a part of Tibet that is still unspoilt. I've always wanted to go there. Like Ladakh in India, it's part of the Tibetan plateau but located in another country. I thought about going there during this current visit to Nepal but couldn't afford the $500 permit needed to get in (the Nepalese government charge this to keep backpackers out and to preserve the culture).
I pack a rucksack: sleeping bag, hiking boots, change of clothes, lots of socks, two jumpers, waterproofs, maps, a paperback (75 articles by Hemingway), phone, charger, notebook, bluetooth keyboard and water. It's too much but I'm not sure what to leave behind.
Friday, on the road to Pokhara
"Meet me in front of the stupa by the mall," says Aakash. "We'll pick you up there at eight thirty."
It takes about half an hour to walk to the stupa. It feels good to walk through the streets of Kathmandu with a big, dusty rucksack on my back. I feel I'm a proper trekker, with a sense of purpose and a high altitude destination. I'm getting out of this over-polluted city.
Aakash hustles me into a small car which has a thin Nepali driver behind the wheel. His mother, Bijaya, a botanist who lectures on orchids, sits in the front seat. She's warm and friendly and charming but I don't understand how we're all going to get in: the back seat is already full with Aakash, me and my rucksack; and we have to pick up his Dad and his cousin. But I know from experience that the best approach at times like this is simply to have faith that things will work out.
Kathmandu is jam packed with cars and motorbikes and traffic moves at walking pace. I can't see any parking places anywhere. I read in a local (English language) paper that if you laid all the vehicles that are registered in Kathmandu end to end, it would be longer than all the roads in the city.
We're in a car park, in front of a hospital. We're waiting for Basant, Aakash's Dad. He shows up in a big Mitsubishi Pajero 4×4 and we all pile in: mother and father in the front; Aakash and cousin in the middle seats and me in the back with the luggage. We all have plenty of space and if I want to snooze all I have to do is lean forward onto my rucksack.
"What about the driver?" I ask.
"My Dad will drive," says Aakash.
Aakash's dad is a neurosurgeon, a brain surgeon, and he runs his own private hospital. Even though he's very down to earth he's definitely a big shot and, from what little I know of Nepal and the Indian subcontinent, big shots don't drive — they have drivers. And Dr Pant has been at work this day. Does he have the energy to fight his way through dense and chaotic traffic? I know I would soon tire.
Three hours later and we've only just got out of the city. Kathmandu has what they call a ring road but it's single tracked and much of it is being dug up. It looks more like a truck park — an endless line of battered, dusty trucks and buses that don't move for long periods of time. It's like a Twilight Zone where time stands still, where hawkers come up to the car with offers of snacks, water and all sorts of cheap Chinese goods. Lining the roadside are cows, rubbish, crowds, dust and more people selling things.
"Who's he?" I ask Aakash, pointing to a bearded man engaged in a good natured banter with his Dad. The man has a thick wad of notes in his left hand and I presume he's some sort of policeman or inspector. But why is he wearing a turban and traditional baggy white clothes? Maybe he's so important that he doesn't need to wear a uniform? He looks faintly regal, he has natural authority and reminds me of Saddam Hussein just after his arrest.
"He's a beggar," says Aakash.
*
In my family, if we drive anywhere the one thing that is guaranteed is that there will be a row. We all know best — about driving, navigation and politics — and we're good at blaming each other. Whoever's driving is going too fast, too slow, is in the wrong gear, is too close to the car in front, took the wrong turning, or is wrong about something they just said.
But Aakash and the Pant family aren't like us. I can't follow their chatter in Nepali but it's obviously good natured and there is plenty of laughter. They deal with the gridlock with calm and humour.
If my family were in this car the hostilities would have started with a sarcastic comment, one of those barbed "jokes" that nobody laughs at. Then the blame game would start. I usually make an ironic comment about the fact that my mother always likes to leave at the last possible moment; this drives me crazy and my comments drive her crazy. A miserable journey is thus guaranteed for all.
By now we're on the open road and Dr Pant still seems to have plenty of energy. Not only is he a good, fast driver — he's a demon behind the wheel. He knows exactly when to overtake, when to slam on the brakes and when to use the tremendous power of his Pajero jeep.
Traffic in the subcontinent moves in a different way to traffic in the west. The only formal rules I can make out are that they drive on the left, they respect the instructions given by the occasional traffic policemen and they try not to kill each other. I've been here a month and never seen a traffic light or any of the signs that we are surrounded by. It looks like chaos but it works. The traffic flows, overtaking works and there are remarkably few casualties. They even tolerate cows sitting in the middle of the road.
*
We get to Pokhara and it takes an hour to get into town. Seems like Nepal's second city is also being suffocated in cars, buses, trucks and motorbikes. A cloud of haze hangs over the city and the spectacular views of the mighty Annapurna range, the image that is used to promote Nepal, is shrouded. All I can see are endless piles of gravel, vehicles and rubbish.
I have booked a cheap room in a house with Airbnb, and the Pant family are staying in a hotel. I wander off into the dark with a charming couple who are my hosts for the night.
Saturday, on the road to Mustang
We're racing up the mountains and I feel like we're in a rally. The sign of a great driver is a feeling of safety, even when the car is hurtling along at high speed. I only know one other man who can drive like this, a Scotsman called Stewart Anderson. When most people drive fast I feel unsafe, probably because my subconscious is telling me that he (and it's always a he) isn't fully in control of the vehicle.
The road to Mustang goes up and down like a yoyo, crossing an endless series of passes. After a few hours the tarmac expires and the road becomes a steep, rock track. The bumps become more pronounced but the suspension on this jeep is so good that it's still comfortable.
We enter a gorge ("the deepest gorge in the world," says Aakash) and drive alongside a powerful river that makes a roaring sound. The water has a silvery colour, as do the rocks that surround us. We stop and take selfies. There is a howling wind, whipping up a dust storm, and the air is cool (it was hot in Kathmandu and Pokhara) and fresh. The gorge towers above us menacingly.
The road gets narrower and steeper and no longer can Dr Pant drive fast. The jeep bounces from side to side as he hustles it up the slopes. He negotiates his way past dust-covered trucks and buses, short but powerful beasts with 8 wheels. Aakash tells me that when he hitched up into Mustang he got a lift in a truck that drove up the river bed, as there is no road.
Then it started raining. Heavily. I assumed we would have to turn back as the water was mixing with the dust, creating mud. Surely it would be impossible to get up these rocky slopes? But the word impossible is unknown to Dr Pant and he laughed at my suggestion of turning back.
Eventually we reached our destination: the village of Tatopani. We park, climb up a steep slope and enter an exotic garden with orange trees. Aakash is talking to a rugged looking man at the reception desk (we are in the Dhaulagiri Lodge LINK) and we are shown two simple bedrooms. There is no heating or lighting but nobody cares as we're glad to get a room; this is one of the most popular stops on the hugely popular Annapurna trek.
We're sitting in hot springs, located just 100 metres below the hotel. The entrance fee is $1.50. Two large concrete pools full of hot water pouring out of the mountain, jam packed with Nepali tourists and foreign trekkers. I can't imagine anything better after weeks of hiking in the high mountains.
Suddenly the heavens open and it starts to hail. Big, fat, heavy, painful hailstones fall into the pool like bullets and people start to squeal in pain. The pool rapidly empties but I'm not going anywhere; I just put my arms on my head and do what my daughter would advise: "suck it up."
Sunday, into the mountains
The Pant family have had their fun and are heading back to Kathmandu. They have no qualms about a 10 hour drive back to Kathmandu, or the prospect of the road being blocked by floods, mud or rock. Aakash says my trekking route goes up the gorge, one of the deepest in the world, but I can't see any sign of a path. Just vertical cliff.
We say goodbye.
I didn't make it to Mustang but I'm looking up at a vast mountain that stands like a guard to that land of mystery. I take a photo and here it is: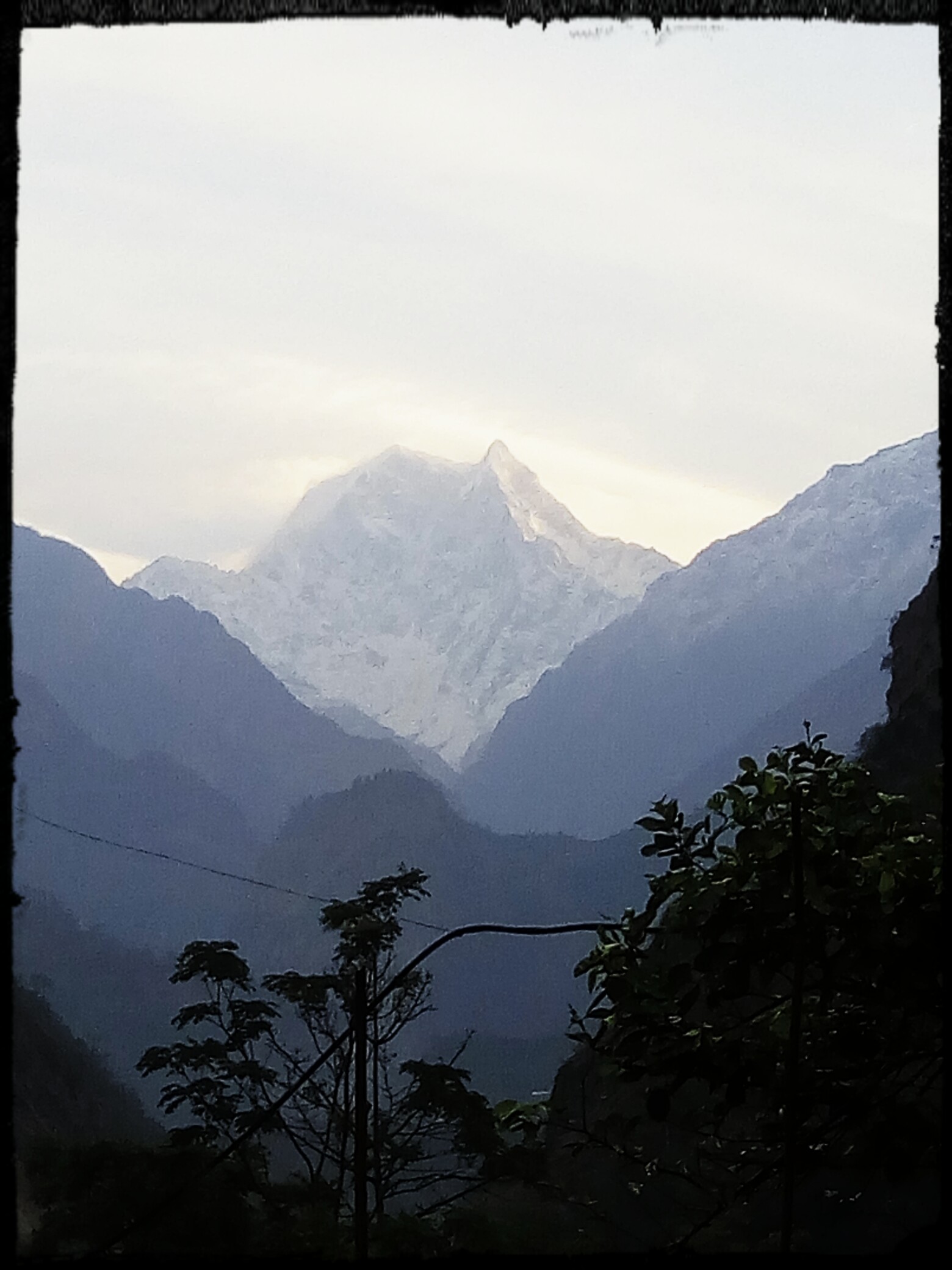 View towards Mustang, from Tatopani, Nepal.
All photos by Rupert Wolfe Murray
If you liked this article please leave a comment…
Writer, editor and creative problem solver. I solve problems & help organisations communicate. Currently based in Scotland but available for assignments anywhere in the world.
Latest posts by Rupert Wolfe Murray (see all)