I wrote this article in Kathmandu this Spring but put it on hold when my mother died…only now am I publishing the last of my articles from Nepal. This one has some pretty cool photos and also gives an insight into what's been going on since Nepal's terrible earthquake was all over our screens. I'd love to know what you think of this article and would be really grateful if you would leave a comment, even a critical one. 
*
Evan Speer comes across as just another American in Nepal, a country that absorbs huge numbers of travellers every year. We met over dinner in a Mexican restaurant in Kathmandu called the Maya Cocktail Bar.
A few days later we met again and I soon realised that Mr Speer is anything but an ordinary American on a world tour. He's the only foreigner involved in renovating one of Kathmandu's most precious historical areas — Durbar Square in Patan.
We tend to think of Americans as badly educated and insular, but Asia and Eastern Europe are full of the highly educated variety. Evan Speer is a case in point: he studied engineering in Portugal and the Czech Republic and emerged with an Msc in the Structural Analysis of Historical Buildings. He lived in Berlin and currently works as an engineering consultant to the Kathmandu Valley Preservation Trust which, he says, is "the only organisation solely dedicated to  the preservation of historic buildings in the Kathmandu Valley."
This photo shows the visual drama of Durbar Square: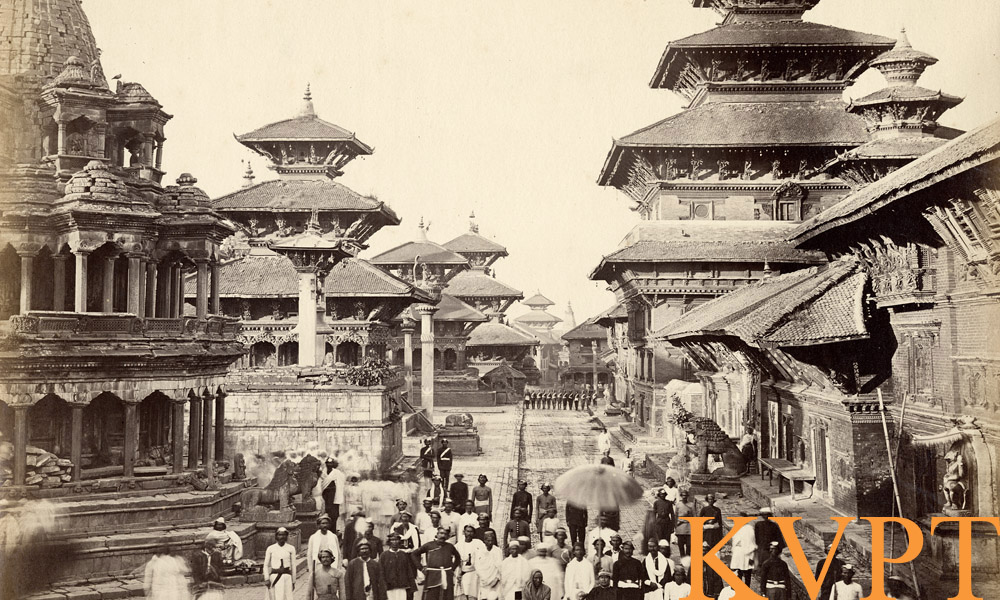 The most remarkable thing about this photo is that almost all the buildings you can see here are still standing. Many buildings fell during the earthquake of April 2015, including the thin monument right in the middle of this shot — but the bulk of this lot are still standing. That's not to say that they weren't damaged by the 7.8 magnitude quake in 2015 that killed 8,000 people and left over half a million homeless. All these buildings have been structurally weakened and need to be reinforced so they don't collapse next time.
Understanding Nepal's Earthquake
I need to take a step back from Mr Speer and explain some things about the 2015 quake — which is more confusing than I had assumed. I had seen news reports of the quake and assumed that most of Kathmandu was in ruins. All the news images that emerged showed destroyed buildings, piles of rubble and desperate people — and I assumed the place had been flattened. But look at Google Earth, zoom into Kathmandu and you'll struggle to find even one destroyed building — and I cycle through this city every day and reckon that over 95% of the buildings are still standing.
What's going on? I don't want to diminish the effect of the quake, I just want to put it into perspective. There was a big quake, many people died and were made homeless, many buildings were cracked and weakened — but most have remained standing. And the people quickly sorted out the mess and started rebuilding — so quickly that they left government and aid agencies behind as these bureaucracies get bogged down in red tape.
The real truth is that the media zoom in on death, destruction and conflict as this is what they consider news (remember the old adage "good news is no news!"). They want you to think the whole place is in ruins.
To illustrate this point I will share this AFP (Agence France Press) article about Kathmandu after the quake. Claire Cozens writes: "The head of a city-centre library devastated in the quake patiently took us round the building…"
Do you see the problem with this sentence? How can a journalist be taken round a building that has been "devastated"? Doesn't that mean it's in ruins? (I looked up the word devastated on the Cambridge Online Dictionary and it says devastated means "completely destroyed.")
The AFP article provides a link to the library in question and it hadn't fallen down; it wasn't devastated. The library had been damaged in the quake but it was still standing. I really don't want to belittle the damage that was done to this old building, or the suffering endured by the Nepali people, but I want to point out that the media's coverage of these events is highly selective. What they do is photograph, film and describe the destroyed buildings and carefully ignore the ones still standing.
The damage suffered in Nepal wasn't comparable to what happened to the Indonesian city of Bandah Aceh after the 2004 Tsunami — a city that really was devastated, literally flattened — and an estimated 230,000 people were killed.
The other thing to understand about Kathmandu is that it is now a modern city. Most of the buildings are modern, concrete and ugly. When I first came here in 1986 the population was about 300,000 and most of the buildings were old. Now over a million people live in the city and very few buildings are old.
It's important to realise this as tourist websites only show images of ancient buildings and spectacular mountains. Like the media, they too are involved in a highly selective use of imagery. The other type of organisation that can be selective with the truth are aid agencies and charities, as they have a vested interest in portraying the country in a dire state.
It would be easy for western observers to assume that Kathmandu is devastated, consists of just ancient buildings and its people are helpless. A few hours in the city makes it clear that these assumptions are quite wrong. Apart from anything else, the Nepali people have been surviving bad government and the most inhospitable climate for centuries.
Some Historical Context
It was good of Evan Speer to show me round the ancient monuments he was helping to renovate, but it soon became clear that he was nervous about the fact that I was planning to write an article. Had he invited a viper into their midst? Would I dig up some dirty scandal? Was he even allowed to talk to a writer?
He quickly overcame these doubts and was the perfect host — informative without being overwhelming; offering enough inside information to give insight but not enough to compromise the organisation; and he showed me a series of quite incredible wooden carvings.
I took lots of photos and this is my favourite: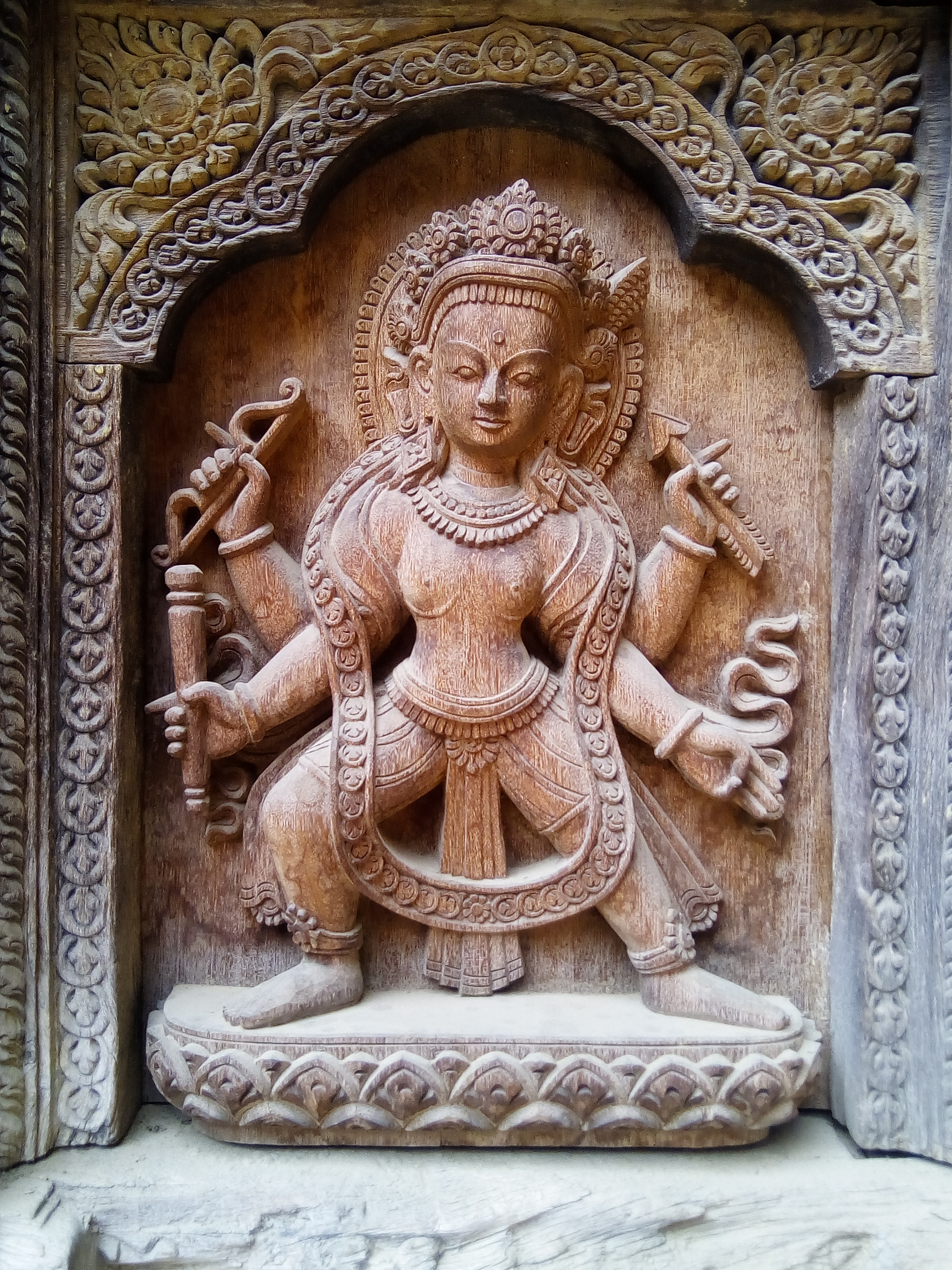 We were looking round Durbar Square in the Patan area and Mr Speer told me a remarkable story about how the local people saved these monuments. But before getting to that I need to give you more background and put this story into proper historical context.
In ancient times Kathmandu consisted of three royal cities: Patan, Bhaktapur and Kathmandu itself. Each had its own king, court and economic system and, quite naturally, they competed with each other and sometimes fought. One of the main ways they would compete was to build glorious palaces and temples — in the Durbar Squares that we can still visit today.
I looked up the word Durbar in the Oxford English Dictionary and it says the word comes from Persian and means "the court of an Indian ruler." It gives an interesting example of how the word was adapted by the British in India: [a Durbar is] "A public reception held by an Indian prince or a British governor or viceroy in India."
Kathmandu's Durbar squares would function as royal palaces, centres of government and awe inspiring edifices to humble the population and make them realise the glory of their monarch — who doubled up as a God and had the power of life and death over his subjects.
They were built up by the Newari people from the fifteenth to eighteenth centuries and the economic engine that funded all this elaborate construction was trade: the three cities became the trading hub between the vast Indian subcontinent and the (equally vast) Tibetan nation to the north.
Fast forward to today and Kathmandu has mushroomed as a modern Asian city, with gridlock and  its own permanent cloud of pollution. The networks of streets full of ancient buildings that used to spread out from the Durbar Squares were demolished and rebuilt in concrete. You can drive all day in this city and not see an old building.
Nowadays it seems that the only old buildings left in this city are the three Durbar squares themselves — each of which are protected by UNESCO as World Heritage Sites, which means it is "a place that belongs to all the people of the world."
But recent updates from UNESCO say they may strip this status from Nepal as the government has done such a poor job in reigning in the building developers, companies that have demolished far more of Kathmandu than the last earthquake did.
Back to Mr Speer
This brings me neatly back to Evan Speer, who told me what happened in Durbar Square (Patan) after the 2015 earthquake. He wasn't here during the quake but he heard that the local people were remarkable: large numbers of local people gathered in the square to assess the damage, gather up the wooden carvings that had fallen off the temples and, most critically, form a human chain to stop the bulldozers from coming in and flattening the area.
He had been told that the dozers were heading for the ancient monuments, presumably on government orders, in order to help with finding victims, even though a bulldozer is hardly the best tool to dig people out from under the rubble. I assumed that it was the building developers (who, in my experience of Eastern Europe, often take over local councils) wanted to clear the land for new blocks but Mr Speer refused to speculate on this.
Evan told me that the temples in Patan's Durbar Square functioned rather like community centres, and hundreds of people would come every day — not just to pray and do their daily rituals ("rush hour is 6am" he said) but for young people to hang out. Their main concern about the renovation work is that they are temporarily barred from accessing the temples.
He is also proud of the fact that his organisation — the Kathmandu Valley Preservation Trust — isn't some vast international NGO run by foreigners. It's a professional organisation with high level Nepali architects in charge, "the best wood carvers in the country" and is supported by local community groups (Guthis) as well as donations from Germany, India, Japan, Norway and the USA.
He explained that the buildings had been shattered by the earthquake and urgently needed reinforcing (or "retrofitting") which sounds like a relatively simple process: if you insert invisible networks of steel, wood or concrete strips the buildings can be saved from collapse next time round.
Like any job in a small and dynamic organisation, Mr Speer's role is not as clear cut as it seems. As well as his structural engineering work, Mr Speer has done a whole host of other tasks: for example, he organised the ancient wooden beams that fell off during the quake into a gallery-type presentation in a simple tin hut. "It's an ideal resource for researchers and academics" he said as he showed me round the stunning wood carvings. You can see my snapshot of it here: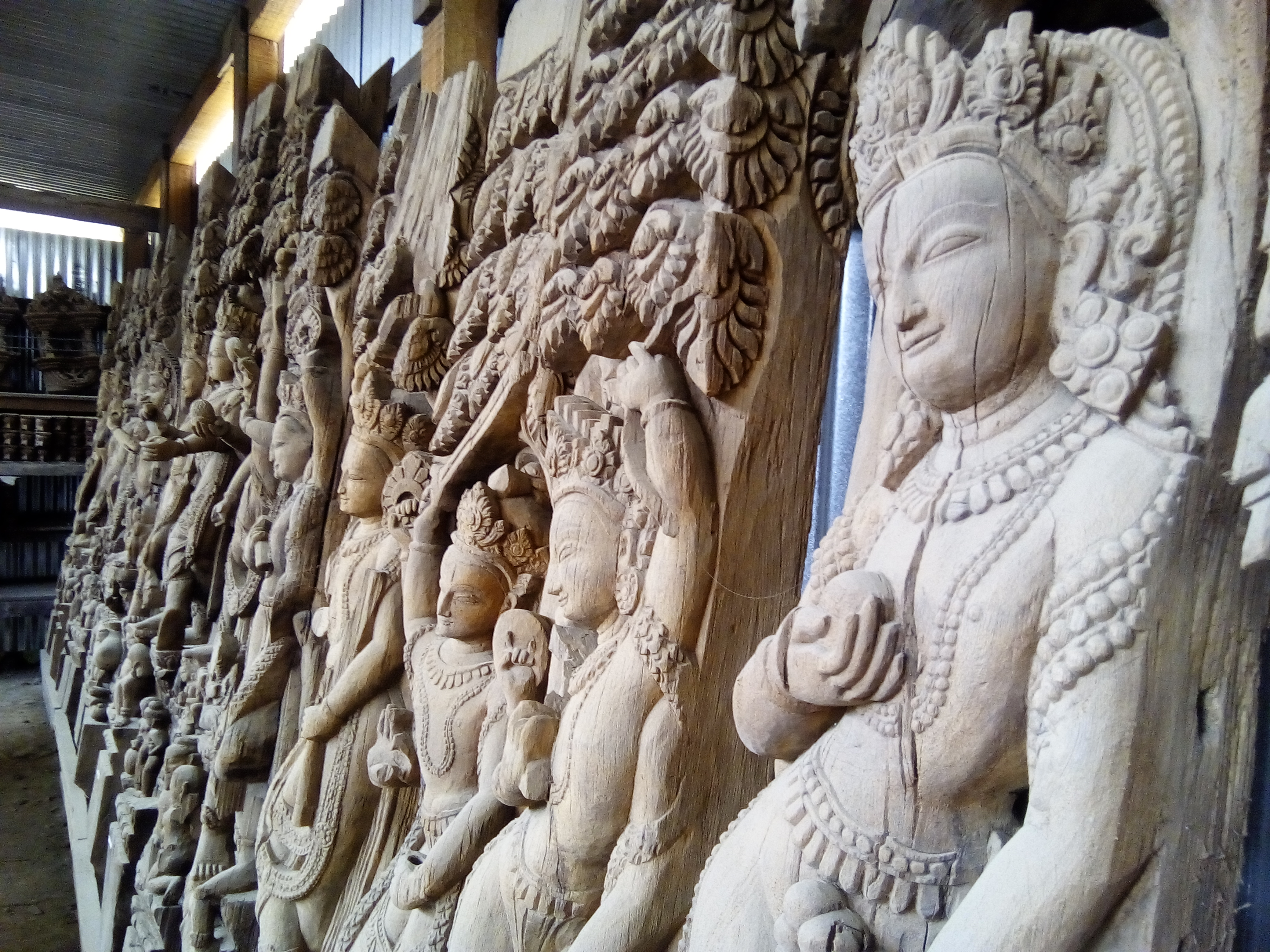 I'm quite critical of NGOs, donors and government agencies trying to help people in Nepal after the quake (as you can see in this article) as they tend to get lost in red tape and their own acronyms. NGO people tend to speak in a language that only the initiated understand, like a priesthood, and, as a result, most people don't know what they're up to.
But I know a good project when I see one and I'm impressed with the Kathmandu Valley Preservation Trust, as well as Mr Evan Speer.
As my Granny would say "more power to your elbow."
*
All photos were taken by Rupert Wolfe Murray on his cheapo French smartphone made by Archos, a phone that many people sneered at but suited me fine. The old photo was given by the trust KVPT. 
Writer, editor and creative problem solver. I solve problems & help organisations communicate. Currently based in Scotland but available for assignments anywhere in the world.
Latest posts by Rupert Wolfe Murray (see all)