Maya runs a lovely little guest house, four hours walk from the nearest road. She's a hustler. She sits on her terrace and calls out to the hundreds of trekkers who plod past every day, using her handful of English words to good effect: "drinks … tea…lunch…hot lemon." Many smile and say "Namaste" (hello in Nepali) but very few stop.
Maya never stops. Now she's doing paperwork (my bill?) She must spend hours cleaning as the place is spotless; when she sits on the terrace waiting for trekkers she sings snatches of songs and banters with locals, most of whom are carrying big loads, some of whom are guiding mule trains (you can see my one minute video of them here).
When I arrived she was in the garden, planting crops among the unruly bamboo plants; soon she will be making my dinner (dhal, fried veg, rice, tea and salad for about £5).
What I like about Maya is that she's cheerful. Her situation is far from ideal — running a big house and garden on her own can't be easy, but you can see that she takes it in her stride and, like those trekkers plodding up the mountain, she just keeps going. Somewhere down the line she probably worked out that being cheerful makes it easier to handle difficult situations.
I also like the fact that we only have a few words in common (prices, the items on the menu and words like good, more, go and tomorrow). For some reason I don't quite understand, communication with her is better than with most of the other people I've met on this trek. We've worked out that I'll stay the night, she told me they have a "hot shower. Very good," which is heated by a solar panel, and I'll have dinner in an hour.
What more is there to say? With the trekkers I could discuss routes, destinations, time estimates and equipment — but I'm bored of such talk. I already know that my equipment is crap and my 20 year old boots are falling apart (the soles are detaching themselves from the uppers).
I'd like to be with my friend Aakash, a Nepalese student, so I could find out more about Maya. How old is she? Why is she alone here? What happened to the rest of her family? Who built this place? Is it hers? Does she make a profit? What does she think of trekkers? Do the government tax or support her?
But then again, maybe not. I'm relishing the fact that I'm alone in this guest house. I feel like a guest of honour, living in the lap of luxury. I'm going to tell the next trekker I meet that I only paid £2 for my own hotel.
The problem with having a companion, or sharing a dining room with other trekkers, is that one feels obliged to make conversation — which is fine for much of the time but there are moments like this (writing on the rooftop, enjoying the evening light, the birdsong and an incredible view) that are sometimes best enjoyed alone.
I've nothing against other trekkers in Nepal but they're not that friendly and they make me feel like an outsider (there aren't many people who are, like me, trekking alone). If I was writing this with other people around I would feel self conscious and would do something else.
Not only do I feel like a king in his castle, in my own mountaintop hotel, but I also feel like a naughty schoolboy who's been skipping school. I've done what the legions of trekkers never seem to do: knocked off at lunchtime and had an afternoon nap. I imagine they would be most disapproving.
It's the second day of my trek. I walked too much on the first day and by day two I was staggering, feeling sick and weak. I had lost control over my legs, which seemed to have turned to jelly and I felt like I had a hangover even though I don't drink.  Fortunately I met an Iranian doctor, whose pills gave me the energy to go on.
It was about 2pm when I stopped at Maya's place. I ordered a hot lemon drink, took one of the four small rooms, had a shower and went to sleep. It was the most delicious sleep I've ever had. I felt invigorated, ready to write (this article) and observe my hostess at work.
The guest house itself was clean and simple and had what one would expect: bedrooms, toilet, shower room, dining room, terrace, electric lighting and a radio. The most interesting part of a Nepali home is the kitchen as it's quite different from anything back home: the washing up is always done on the floor, or in the yard, from a single cold tap or hosepipe. The cooker is fuelled by sticks (not logs) and the whole place is usually decorated with mud.
It might sound disgusting to say "the kitchen was decorated with mud" but in fact mud is a beautiful material that produces a smooth and hard surface when rubbed flat. It's also warm to the touch and, in every kitchen I've seen, swept perfectly clean. The best way to describe it is to show you a picture of a Nepali kitchen I came across on the Annapurna trek: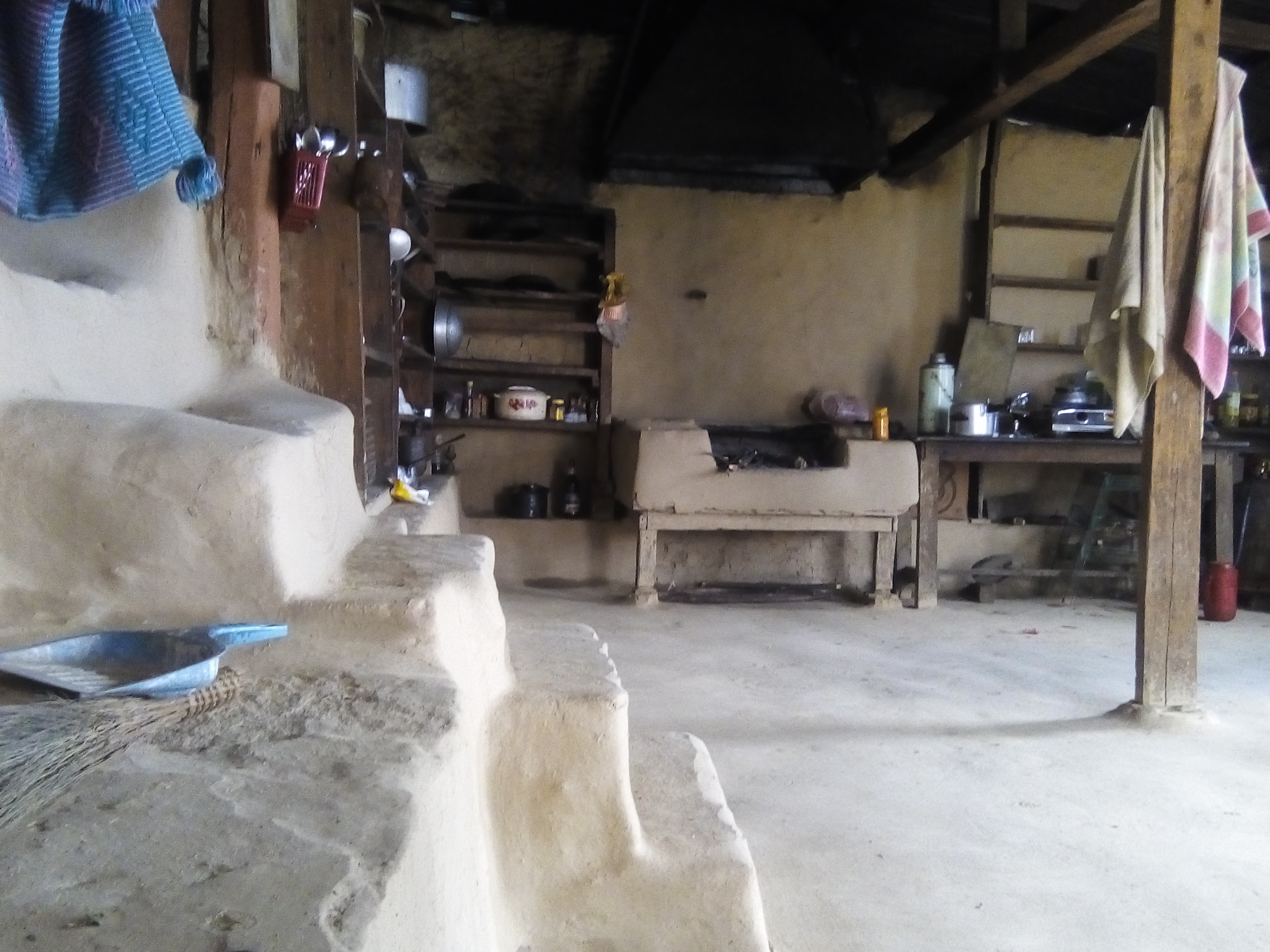 The Future in the Himalayas
I think I know why Maya is alone. These wonderful mountain villages which have been sustaining themselves for centuries, are being depleted of their youth. I had read that the young people go to Kathmandu and the Gulf States where they can get unskilled work. It doesn't take a brain surgeon to work out that working in the city is easier than humping rocks, working the land, guiding mule trains through the rain and carrying rucksacks for tourists. As a result these villages are full of women, children and old folk.
For this I resent modern capitalism. These people have been led to believe that their way of life is primitive and undesirable. Better to head for the city, earn money and spend it on clothes and the other guff we end up buying. How can you preserve an ancient, and highly sustainable culture if the young people are being sucked out?
In the not too distant future I can see these mountain communities, which are one of the main attractions for the trekkers, collapsing. How can they continue after people like Maya finally run out of energy? And even if the young people were to come back they would probably have lost the skills they inherited — the ability to carry heavy loads up mountains, for example.
I'm afraid to say that this ancient village culture, which we are still able to enjoy, is doomed. Until capitalism itself collapses, and village life suddenly seems like the best way of getting food, the youth and vitality will continue being extracted until there is nothing left.
What this means for you is that you should visit Nepal, do these treks, and experience an ancient mountain culture before it vanishes.
All photos by Rupert Wolfe Murray
Writer, editor and creative problem solver. I solve problems & help organisations communicate. Currently based in Scotland but available for assignments anywhere in the world.
Latest posts by Rupert Wolfe Murray (see all)