I met Aakash Pant at the Himalayan Outdoor Festival at a village called Kakani, a couple of hours drive from Kathmandu. That was my introduction to Nepal — a weekend of jogging, climbing, mountain biking and camping. It was exhausting.
Aakash is 18 years old, he speaks English, German, Hindi and Nepali, is a keen rock climber and wants to kayak from Mustang (high up in the Nepalese mountains) all the way down to the Bay of Bengal. He's doing A-levels in Kathmandu and will apply to study medicine in Heidelberg in Germany.
He hangs out with my brother Magnus and his rock climbing buddies. They're all super fit and often they talk in the strange jargon of this sport. Keeping fit seems to be their raison d'etre and they're always pushing themselves to go that little bit further. Sometimes I wish I was like that.
Aakash's family are Brahmins, the ancient caste of Hindu priests from the subcontinent. He says this caste doesn't mean anything to him or his family — most of whom seem to be medics (his father is a neurosurgeon and his mother researches medicinal plants).
"We are more progressive than most Brahmin's," he says. "A vast majority of people in Nepal marry within their caste. But my father says that inter-caste marriages are preferable as they promote better genetic diversity." In other words, it's not good to marry within your same gene pool as it can lead to inbreeding.
Aakash saw an article I wrote about Ganesh, the elephant God, and then told me a story about how Ganesh came to be the one who is always worshipped first:
Ganesh and Kartik are the sons of Shiva the Destroyer, one of the three main Gods in Hinduism. Their mother is Parvati, the Goddess of love, family and fertility.
Shiva and Parvati are given a magical fruit of wisdom and knowledge. Both of their sons want to eat it. Brothers always argue and I guess they did too.
Shiva says 'whoever goes round the world three times the quickest will get the fruit'.
Kartik has a majestic peacock to ride on and is confident he'll win. Ganesh only has a little mouse to carry him and he's got a big pot belly. Kartik is slim and fit.
Kartik hops on his peacock and flies away while Ganesh calmly sits at his parents feet. Before Kartik is back from one circuit of the earth, Ganesh has ridden round (on his mouse) his parents three times.
Ganesh says "my parents are my world" and Shiva, proud of his sons wisdom, says that any ritual or auspicious ceremony should begin with the worship of Ganesh.
I'm not sure who got the fruit.
*
Here is the full shot that I took of Aakash in the mountains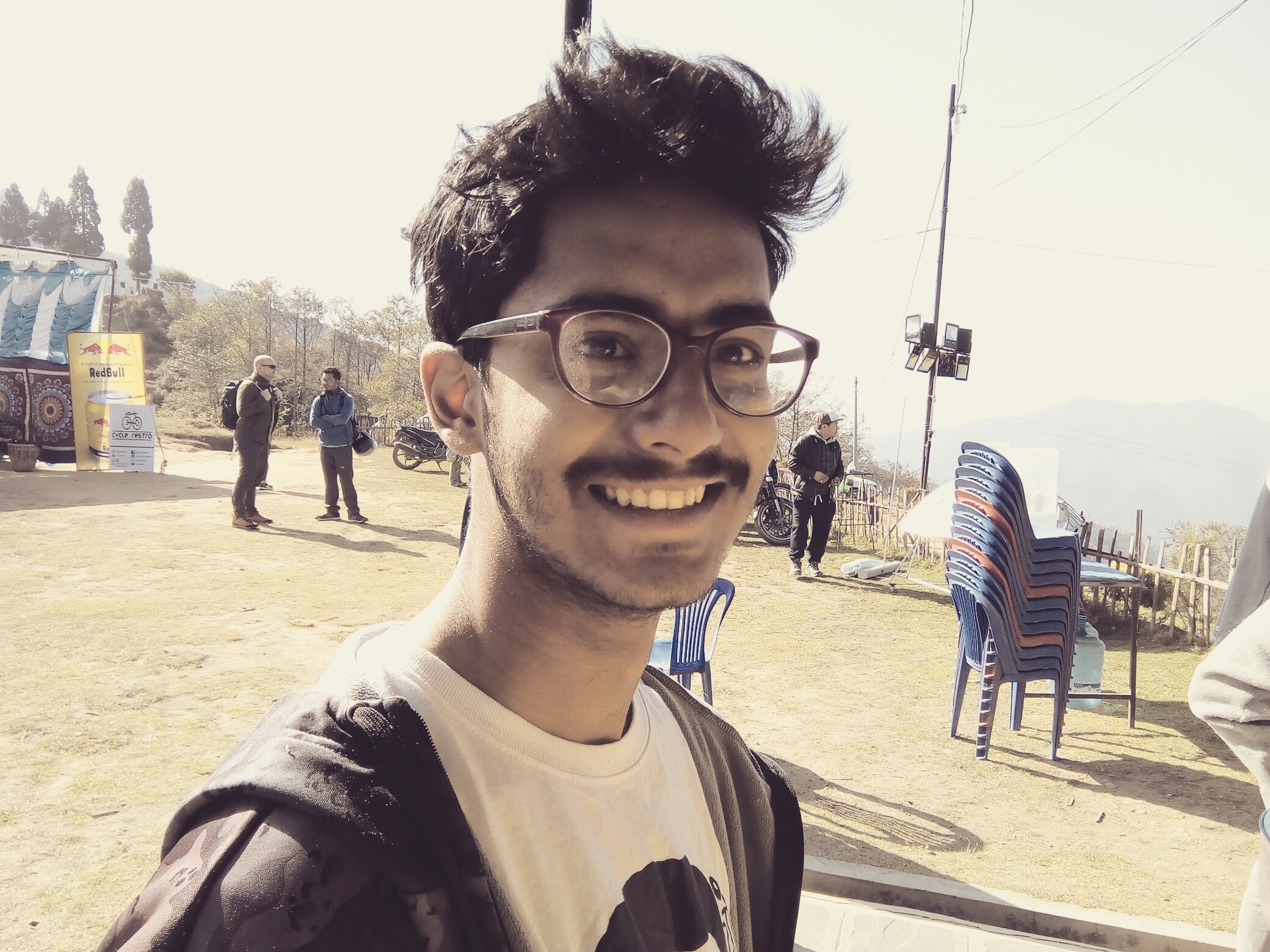 aakash pant, ganesh, kakani, nepal
Writer, editor and creative problem solver. I solve problems & help organisations communicate. Currently based in Scotland but available for assignments anywhere in the world.
Latest posts by Rupert Wolfe Murray (see all)